So every year-end i
post up
a
syok
sendiri
top-10 chart with a
pukesome
list of things i unfortunately
couldnt
help falling in love with.
Been doing this since secondary school so it's only appropriate to keep up this personal
tradition
of mine...
This
was my faves for 2007.
And
this
, 2006.
Once again it's all POP songs so all
ye
mainstream-haters
pls
bare with me.
Here lies MY
TOP 10 FAVOURITE SONGS OF 2008: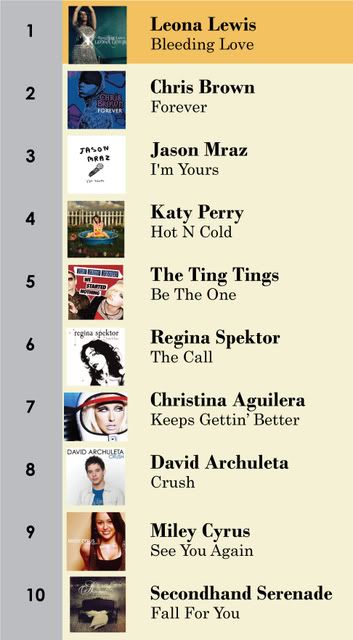 over-played songs galore.

I cannot explain Bleeding Love la.
The 1st time i heard it i just dived straight into song obsession.
That was before Msia caught wind of it.
Before it shot up the US Billboard.
Before the radio stations ran the repeat button on it.
Then i got sien of it for awhile.
Then came the So You Think You Can Dance routine.
Then i heard the BoyceAvenue acoustic version.
Then it went into my playlist all over again.
Now everytime i hear the song i can visualise the dance in my head.
Which is why i am STILL listening to the song now...

It's been nominated for 2 Grammys for Record of the Year & Best Female Vocal Performance.
I hope it wins.
For both.

The only thing i dun get is why they released it in 2 versions of the video.
- A US version and a UK version.

the US vid just looks like a low budget one compared to the UK version.
I feel like bleeding now cuz tmrw is a workday after the long Xmas weekend.
Argh.
Sux la.