I am back from beaching!
Burnt,
flaky
and peeling. As usual.
Apparently
every beach trip i take leaves me visibly reddish and looking like a heat-struck snake shedding scales.
Then, as
SY
likes to put it, in 2 weeks time i become white again. -_-
I think i should just give up trying to get dark la.
Should just leave it to the experts.
*cough*

shyng

*cough*
Now i tell u about
ze
trip:
Lang

Tengah
was where i was for 4 days and 3 nights.
"
Tengah

"
because it's located in the middle of
Perhentian
and
Redang

.

The 3 of us (
Zarf
,
Owhy & Me ; Chenny
was suppose to join us but couldn't because work, commitments and bosses suck - i'm so sorray Chenneigh... ) took the night
FireFly
to
Kuala
Terengganu
and stayed at a backpackers inn in the city for the night.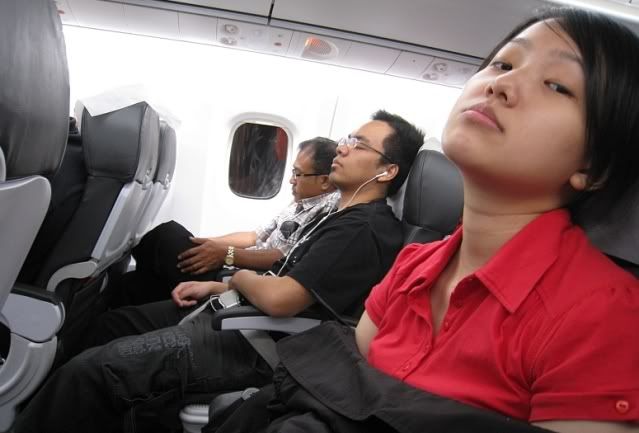 It was the 1st time giving
FireFlyz
a go.
Plane felt even smaller than
AirAsia

.

But all in all was
ok
.
Anything will beat the crappy
heatyness
of
MAS.
Our inn felt like a prison cell.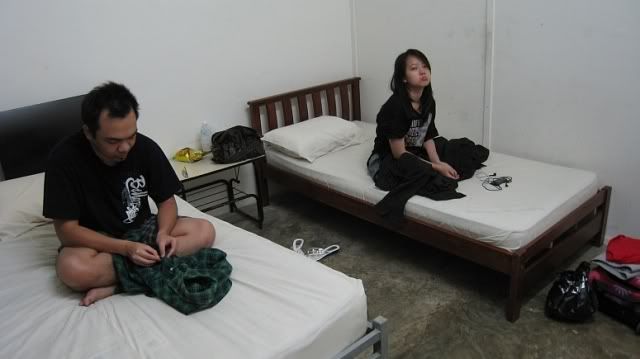 But aiya. RM15 per person of course la.
Next day we met up with
Ken
and
Kel
and proceeded to the
Merang
jetty for the boat that was to transport us to
Lang

Tengah

.
I hated waking up at 6.
Friggin
moody.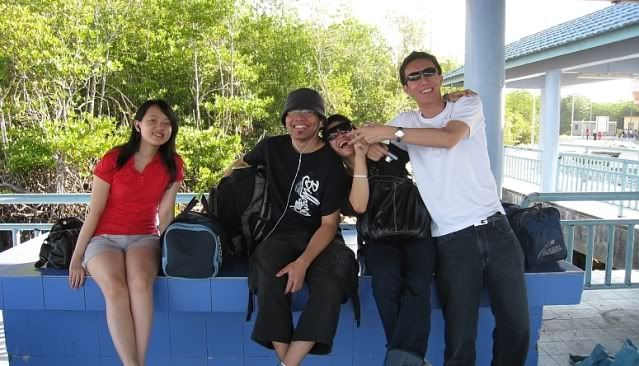 The boat ride was kinda boring.
Nothing like the super bumper-car-roller-coaster feel
Krabi
speedboats had.
I was dozing off. On the boat.
Yeah. I like it rough.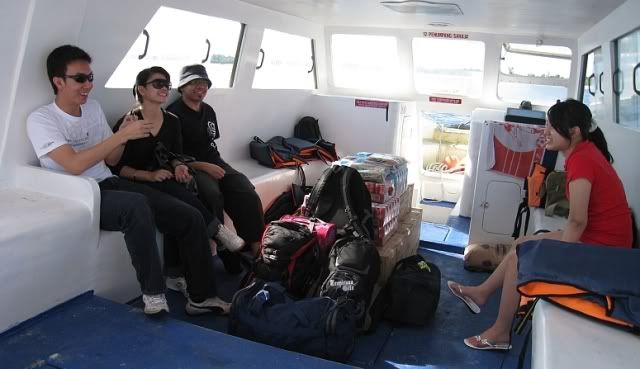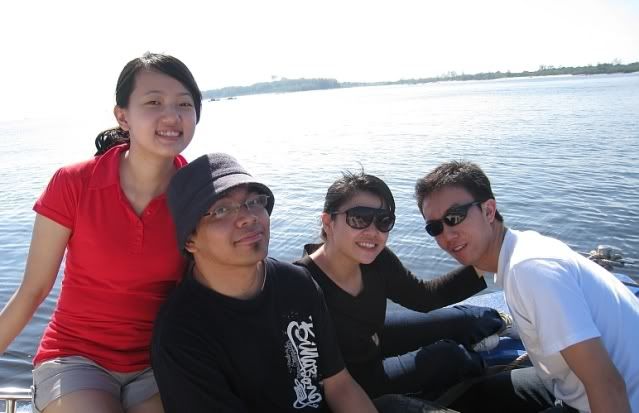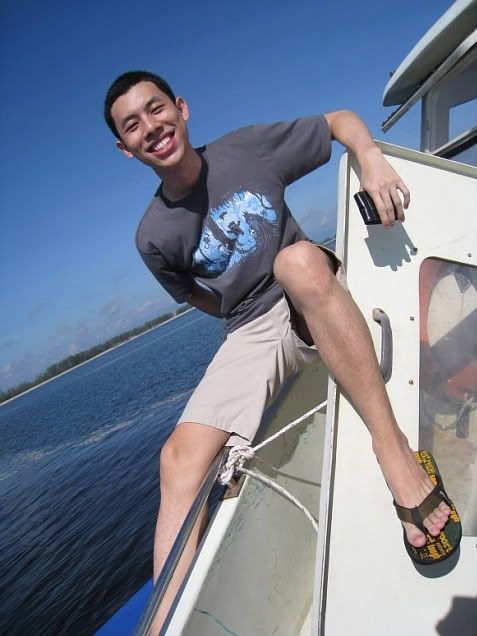 Upon arrival on the island, We kinda expected it to be more of a
"

woah

"
than an
"oh

ok

......."
reaction.
Beach was kinda small and lacked the vast white
oomph
that
PhiPhi

island
had.
We stayed in this humble resort called
Redang

Lang Resort
and we pretty much stuck our asses there most of the time. Mainly
cuz
there
wasnt
anywhere else to go.
And to make things worse, we had no TV and the rooms were literally
ovens
if you
didnt
leave the air
cond
on while u were away. Going green and saving energy out the window.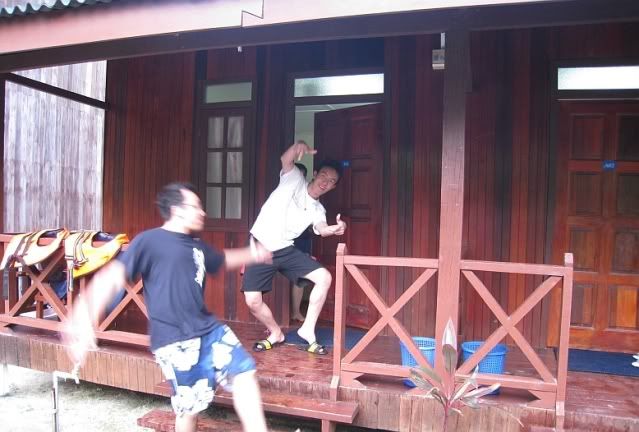 I literally lashed out silent scream when i saw the
absence
of the
tv
.
Guess it comes with the price we paid for the package.
Goodstuff

:
very clear waters. very fine white sand. Quite an affordable package.
Badthings

:
small beach. budget
accommodation
. Dead corals everywhere. Poor soles.
Oh and as expected, my seaside romantic walks turned into draggy limps of pain.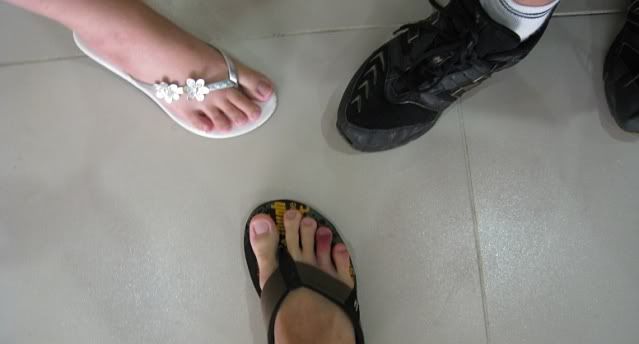 Spot the cacat toe.

The sun was so hot that most of us had lost the mood to really enjoy on the 1st day.
I understand that beach trips are suppose to be bright and sunny but this
was kau burning lor. Like the rays were literally eating away our flesh from the surface layers to the tissue inside.


1st day was a
snorkel
visit to
Redang

Bay Marine Park.
Didnt
really enjoy it.
Too many people.
Sun was too hot.
Salt water kept getting into my nostrils and gagging my breathing system.
(it was only after tat that i realised you could actually tighten the
snorkeling
gear to your
preferences
.
heh
.)
Obtained majority of sunburns there.
2nd day was perfect.
No sun.
Breezy the WHOLE day.

Beached alot.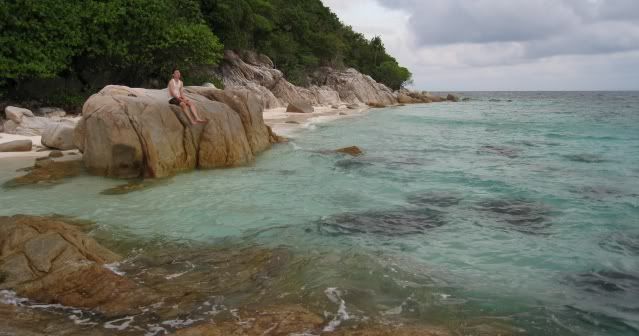 Snorkeled alot.

Took paparazzo pics of ppl pakto alot.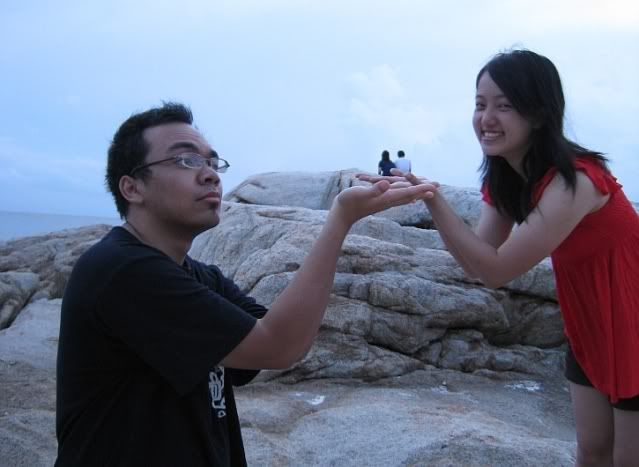 Parade in fugly uncle singlet alot.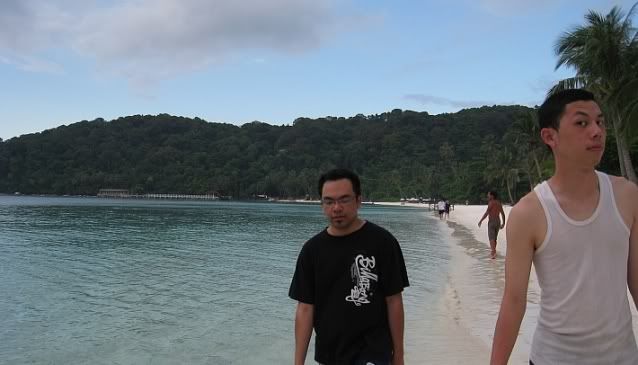 And there was even karaoke at night.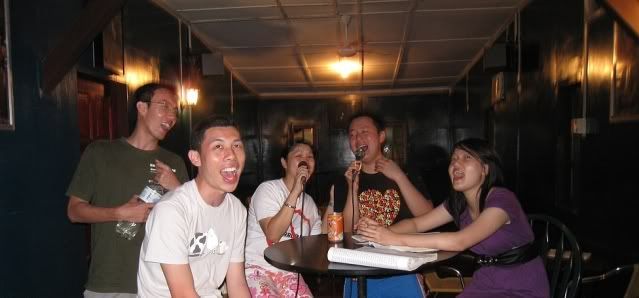 After working the rented s
norkeling
gear to my advantage i actually found myself enjoying every moment of being under the water.
Surprisingly calming.
After you get pass the potentially-drowning paranoia, unknown-creatures-creeping-up-to-u phobia and fear of scrapping-feet-on-sharp-corals.
More to come soon. :)
We are fehmilee.