It's going to be christmas in a month or so and no way are we going to let long working hours, crappy wedges and bitchy bosses steal our christmas spirit from our tired but able bodies.

No siree.


The Pelangi I-18-7 housemates were home rather early (7:30pm. Believe me. it IS early in our timezone.) and were in gleeful moods. So what better way to express that pent up glee but to glimmer up the dust layered xmas decos stashed away in the store room.

And thus commenced, the 2008 deco session.

1st thing you MUST MUST MUST do is to look good for the camera.
As demonstrated by the
HouseBunneigh SY
.
From bimbo black to wonderland white.

Then you pull out supposed-former-Aquarium-Hood-now-turned-xmas-deco box.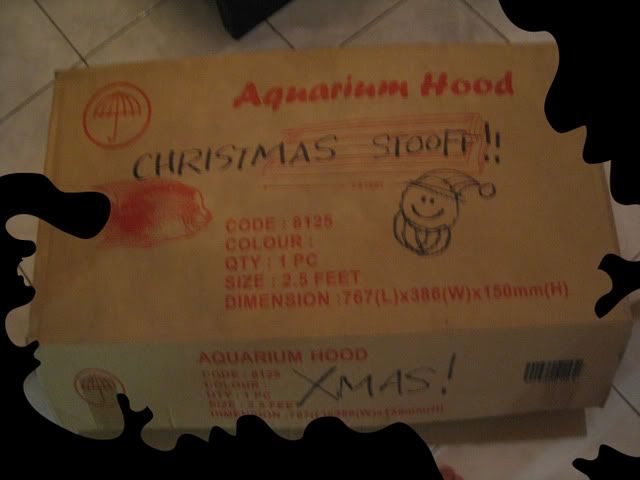 Then after that you need to know how to find nice angles to place your camera on 10 sec timer mode to take shots that include yourself inside the pic. Or you'll end up with photos of
everything
and
everyone
else
except
yourself.
See what i mean.

You end up with only 1 single shot with ur face in the photo at the end.

Then you watch in silent awe as the
semangated
housemate does the details of the arrangment, untangling of the pastic leaves, hanging of the lights and humming of the carols.

That's Housemate No.3 Danny on the far right.

During this time, you also engage in very intellectual conversations with your other 2 very brainy housemates....
Danny: (takes a rest from decorating, moves over to aquarium and pours fish food in)
Me: Eh Danny!!!! Shinying fed already!
Danny: Oh izzit?? She fed already ah?
SY: Ya. Thanks. Shinying FAT already. -_-
Me: EHH! Sorry! I really didn't mean that... :)
SY: -_-
Danny: o_o

After everything is done, you take photos of end results and post em on your new blog.

Tadaaaa!
Light on!

Need to start Xmas shopping now or i'll never get it done on time...
somemore i damn broke.
Argh.